Curious about our 'Selected viewers' feature?
The feature 'Selected viewers' has two advantages. One, you'll have complete control over who watches your video, because you'll upload a file with the names and email addresses of the people who should watch your video.  Two, you will know who has watched your video and how they answered the questions.
Again, you can choose if you'd like to watch our tutorial or read our explanation below.
How to use Selected viewers
Firstly, click the 'Settings' icon.  Then click on 'Selected Viewers'.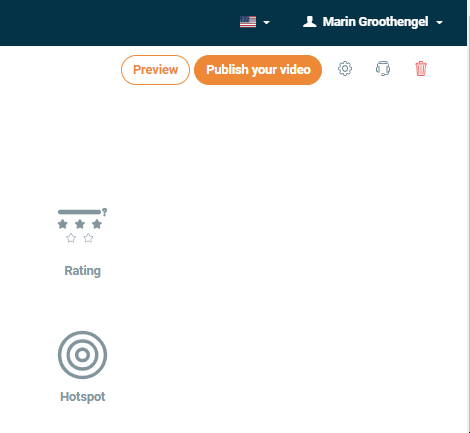 Next, you can download the template for selected viewers. You can submit all the names and email addresses of those you want to share your video with. Afterwards, upload the file.
Then, on the right side of your screen, you can download an Excel file that contains the personal URLs for your viewers. You can send these URLs to your audience. This can be done manually, but it's easier to use a tool that takes this out of your hands, like MailChimp.
On the this same page, you'll be able to see who has watched your video, if they've watched the video until the end and if they passed. And if you see that Dean has 20.000 views, you will know he has sent his personal URL to other people.
Example of Selected viewers Excel file

Tip 1: If your audience is too big to create an Excel file with names and e-mailadresses, but still would like to connect names with statistics, we've got another solution for you. Click here to read more about the feature 'Collect viewerdata'.
Tip 2: If you wanted to use Selected viewers just to shield your video, you can also choose the setting 'People with the link'. This way, your video is hidden from Google and other search engines. People will also need an url to watch the video. Click here to read more about publishing your video.