When you click on 'Measure', you'll get an overview of the statistics of your video. But maybe you'd like to discover the statistics in more detail. In that case, it's best to download the statistics. That way, you can also share the statistics with colleagues or clients who do not have an account in hihaho. This article tells you how to export your results.
Where can I find the export function?
First, click on 'Measure' or click on the statistics icon in your overview page.
On the statics page, go to 'Export statistics' at the bottom of the page.
Click on the green button 'Show download options'.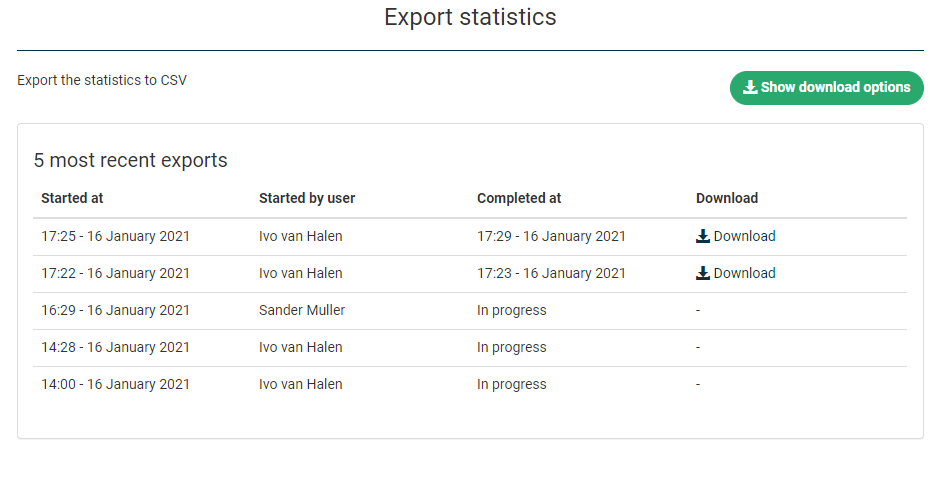 Which export options are available?
You can choose different export files such as:
Users – Information about the viewers of your video.
Questions – All given answers on open questions and multiple choice questions.
Interactions – The interactions you added to your video.
Statistics from Nerds – Advanced stats with information about devices, browsers, etc.
Video progress – If you added progress markers to your video before publishing, you'll know how much of your video has been watched by your audience.
How do I open this file in Excel?
Press 'Start export'. You'll receive an email when your export is ready.
Open your file with Excel or another spreadsheet tool.
Most exports are CSV files (comma-seperated value files). You can use the steps in the video below to learn how to open CSV files in Excel.