There are a few different ways to create subtitles. We're going to explain them here. However, If you'd like to know how to add subtitles in hihaho, it's best to check out this article.
Option 1: Use a tool
There are some websites you can use to create subtitles. Afterwards, you can download the SRT file and upload it in hihaho.
CC creator is one of the tools that's out there.
But we think the easiest way is… YouTube! YouTube can automatically generate subtitles. This saves you a lot of effort!
Our method
Upload your video on YouTube as a private video. This is just a temporary upload to create the subtitles, because you've probably already created an interactive video in hihaho.
Step 1 . Add and/or edit subtitles in YouTube. As you can see in the image below, capital letters and dots are missing. Sometimes, YouTube also misses some words. In this example, it should be "Great, you have finished your video." Even so, it still saves you a lot of time when you only have to edit the text! When you're finished, it's time for step 2.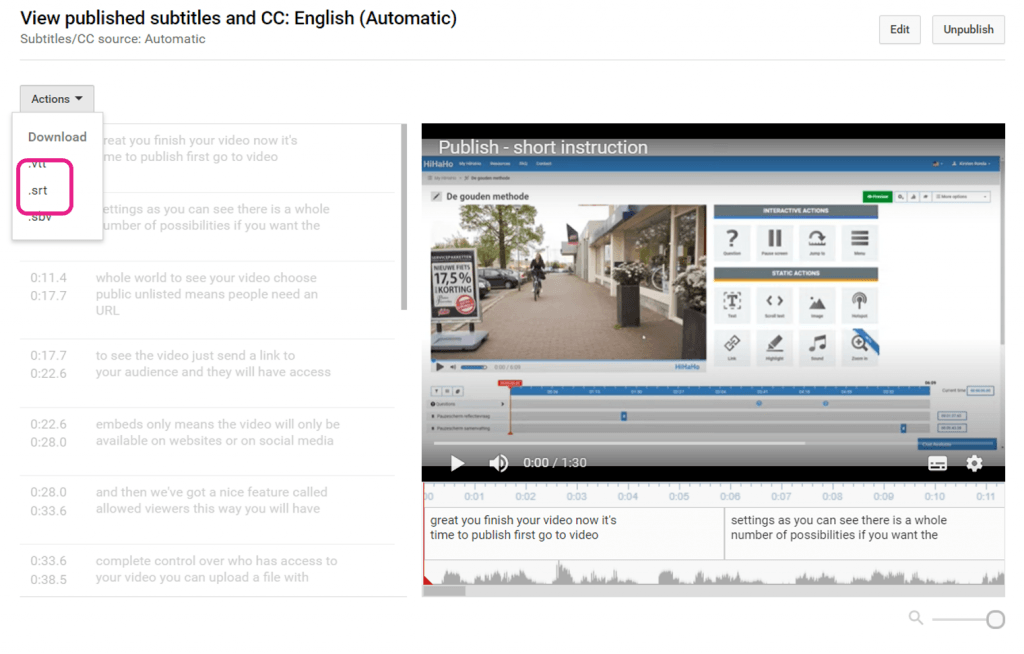 Step 2. Download the subtitles as a SRT file.
Step 3. Upload the SRT file in hihaho.
Step 4.  Remove the video from YouTube.
Option 2: Write the text manually in Notepad Text editor
This looks like this:
1
00:00:20,000 –> 00:00:24,400
Example sentence 1
2
00:00:24,600 –> 00:00:27,800
Example sentence 2
In this format, the last numbers are milliseconds.
Of course, writing subtitles like this takes a lot of time.
Option 3: Outsourcing
Do you have a larger budget? There are also a number of companies that would happily create subtitles for you. Just do a search on Google to find one that meets your wishes.